Baskets are an essential part of gardening, especially during harvest.  The kids and I use ours for weeding as well, filling them as we work our way down the rows.  Rule number one:  weed the row, but don't leave your weeds behind.  Rule number two:  if you see weeds in the walkway, toss those into your basket, too!
But with so many baskets to choose from, where does one begin?  Simple.  Think about how you plan to use your basket.  Growing beans?  A large, lightweight basket will do.  Carrots?  Think long and waterproof–you'll want to rinse those golden glories before they make it into the kitchen.  Potatoes?  Think heavy-duty AND waterproof.  Watermelon?  Buy a wagon instead.
See what I mean?  Workload matters.  Once you've decided on size and weight, how about style and functionality?  Many woven baskets start out well, but don't tend to last.  Except for one.  While I hate to date myself (sure getting old beats the alternative, but I'd being lying if I didn't admit I prefer my thirties body over my forties), I bought a Longaberger basket over twenty years ago.  I attended a "Longaberger basket party" much like one would a "Tupperware party" and felt obligated to buy a basket.  Back then, I really had no use for the thing, not to mention these babies are expensive.
I've since learned why:  they last.  Plain and simple, these baskets are well-crafted, sturdy, and beautiful.  Pretty enough to use as home decor, mine stays in the garden.  For those of you familiar with these baskets, you probably spotted them in my photos; they definitely have a signature look.  They come in all shapes, sizes and designs (this one is from the spring and summer wish list collection), so take your time and peruse the online catalog.   For general garden and harvest use, these baskets are definitely my favorite.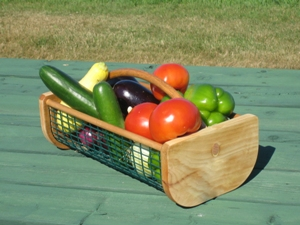 Their only downfall is they aren't waterproof.  When I harvest potatoes, carrots, beets and the like, I rinse them before I trek them indoors.  If I don't, I'm likely to receive an ear-full from my husband.  Something about dirt and drains and how expensive plumbing repairs are…
Yada-yada-yada.  But being the good wife that I am, I listen to him and wash all vegetables before introducing them to the kitchen sink.  For this reason, I like a wire mesh basket.
While I can toss my vegetables on the grass for a quick dirt bath, I then find myself rinsing them a second time to remove extraneous grass clippings and the like.  Not good.  Double work is double trouble and worth avoiding at all cost.  The basket shown is called a L'il Maine Garden Hod–a Pike's Original.
When it comes to waterproof and kids, you can always go plastic (ugh, did I say that out loud?).  They're lightweight, available in all colors and handle weeds and veggies as well as any other.  They're also less expensive and easy to find.
An interesting choice of harvest basket is called a trug.  I believe the origin of this design is English–though don't quote me on that–and have been around for centuries.  Basically, it's an open harvest basket hand-carved from wood.  Rustic and unique, I think they're pretty neat-looking.  From the looks of them, they seem pretty durable, too.  This one is from Barber's Baskets.
So if you want to be different, buy a trug!  The longer shape is perfect for collecting onions, garlic and carrots from the garden.