20 Jul 2011 No Comments
With the end of July fast approaching, the garden gals are wrapping up for the summer and looking forward to their fall growing season–we in Florida are fortunate that way–and they couldn't be more excited.  Just look at Ashley's carrots.  Carrots in July! It's nearly unheard of in these parts.  Too hot.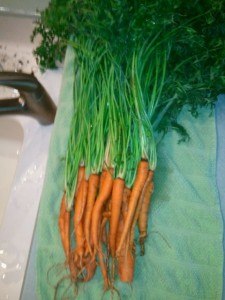 But let me tell you, that's part of the thrill.  As their gardener "guide," it's exhilarating to see two women who didn't believe they had the time or the talent to sustain their own garden–do so–and with spectacular results.  Better yet–they realized it was so much easier than they ever imagined!
Well you, too, can be an inspiration for a fresh green energetic wannabe.  All it takes is a little "know how" and a friend with less–"know how" than you, that is.  Sorry, but it doesn't take a rocket scientist to garden OR to coach someone else to do the same.  It only takes the desire to help, the time to share, the willingness to show up and the grace  to remember you were once where they are today.
Just think of it:  you could teach them everything you know.  Teach them how the "know-it-alls" don't always know it all, and remind them that plants can grow all by themselves.  You'll tell them Mother Nature is kind, has a sense of humor and is usually forgiving–so long as you're earnest in your outdoor endeavor.  And she prefers organic.  All they way. 
No sense in ruffling her skirt.  Have you been caught in one of her temper storms? They're something to steer clear of, to be sure.  But if you mind your manners and be kind to the earth, you'll reap some of the most gorgeous bounty imaginable.  And so will your protegé.

So be a garden coach!  That's my own term, garden coach.  Do you like it?  If you do, then slap it on your happy cap and help a friend or neighbor start their very own backyard garden. Or front yard.  Times and landscape design are a changin' and you DO want to be cutting edge. 
A trendsetter–a garden coach!  Today's twist on the old volunteer. Easy, manageable–and totally rewarding.