09 Jun 2016 No Comments
It's called aquaponics, not to be confused with hydroponics.  Have you ever seen the very cool water white towers dripping with lush green plants? You know, the ones grown without dirt, without fuss?  Well this is one step above hydroponics because not only does it utilize the "fast feed" system of cultivating plants in water, it does so by adding fish poop into the mix.  Huh?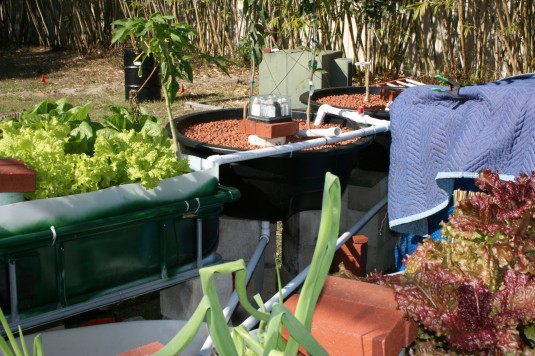 Stay with me.  It was an odd concept for me to grasp, too.  I'm used to digging in dirt, remember?  Aquaponics is actually a combination of aquaculture (raising aquatic animals such as fish) and hydroponics (cultivating plants in water).  It's the method of growing crops and fish together in a re-circulating system (think: ebb and flow) where the byproducts from the fish are filtered by the plants as vital nutrients, after which the "cleansed" water is returned to the fish.
Basically you set up a simple fish tank (shown above covered with blue blanket due to temps and the fact these fish aren't fond of bright light), hook it up to plastic plan beds filled with special water retaining gravel and turn the power "on."  I do love EASY!
According to GrowingPower.org:  "By using gravity as a transport, water is drained from the fish tank into a gravel bed.  Here, beneficial bacteria break down the toxic ammonia in fish waste to Nitrite and then to Nitrogen, a key nutrient for plant development."  The key here being gravity and/or "raised beds" which equals "no bending!" More