15 Apr 2011 No Comments
"How sweet it is" doesn't begin to describe these delicacies!  The kids devoured the onions they pulled from their school garden this week, followed by howls for seconds.  And I do mean howls.  It's Friday and these kids were energized, to say the least!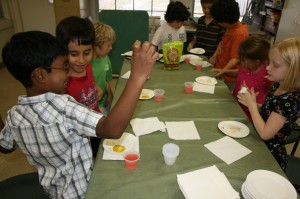 But so long as they're behaving we don't mind a bit of energy, right?  Nah.  Besides, who can blame them?  Eating what you grow is way too exciting.
We began our harvest party with a sampling of raw onion slices served with a choice of either ranch or honey mustard dressing–for dipping, of course.  Upon first bite, many of the kids were surprised how well the onions tasted!  Some thought them too "spicy" while others thought they tasted like water.  What?!  Water! How can you say such a thing?
They remained firm in their opinion.
Hmph.  Water?  Well… 
They were picked fresh from our garden, and as vegetables go, onions do consist mostly of water…  Could be an accurate description.  How about we go with "sugar water," to be precise.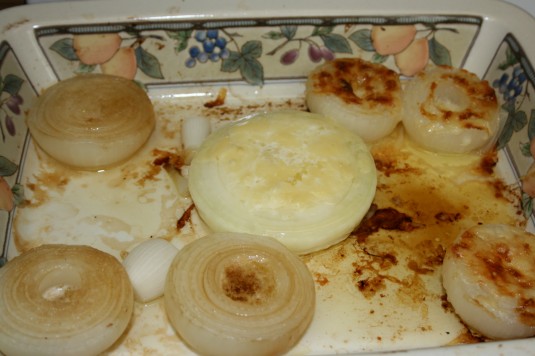 It was an easy sell.  Next it was time to sample our baked onions–which won the taste competition hands down.  Why? 
Perhaps it was the scent of sweet onions baking in the oven that tickled their bellies (sure worked a number on the teachers!).  Maybe it was the brown sugar and melted cheese that cinched the win (both well-known favorites of children).  But either way, the baked version definitely became the preferred dish of the afternoon, warranting seconds, thirds–as much as I would give them!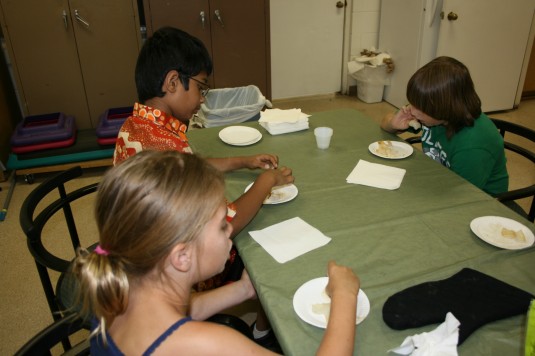 Which is heartwarming for a parent.  Connecting kids to what they grow in a tangible way really makes an impression between their garden and their food supply.  Taking time to slice the onions, grate the cheese, witness their entry into the oven followed by the ogling of golden beauty said it all.  Sure they were delicious, but so are a lot of things these kids consume. 
One thing for certain:  these students will remember these onions, no doubt about it!  If you'd like to sample some these gems for yourself, check my recipe section for full details on how you can make them at home.