13 May 2011 No Comments
Okay–we all know a child's favorite time in the garden is harvest time.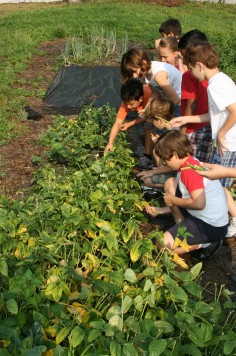 Of course it is.  Shoot, it's MY favorite time in the garden, who are we kidding?  After all the weeding and feeding, pruning and plucking–I'm plum ready for some bounty!  Aren't you?
And with our bounty comes the business of seed saving.  In our school garden we're working on self-sustainability.  Granted, we must first work on defining what this big word means, though I'm proud to say, many of the lower elementary kids knew the answer, albeit their description was somewhat conceptual in nature.
Which is fine with me.  These kids are learning hands-on practical gardening and I'd rather they understand the concept than memorize the details. 
Now mind you, these kids understand that if there were no gardeners around to harvest the seeds, plants would still grow and reproduce.  (It's just more fun when gardeners are in involved!)  So to begin, we examined our peas and beans in various stages of growth.  Black eye peas are green or tan and can be eaten fresh.  Not black beans.  Their pod begins green, gradually becomes lavender before finally turning completely purple (eggplant, to be exact).  And you don't eat them from the vine.  Bad belly cramps.  Very bad.
When they reach the deep dark color, we know they've fully matured.  At this point, we can pick them, dry them, eat them (after soaking) or save them for planting next season. 
 What happens if we don't pick them in time?  They dry themselves on the vine, ultimately spitting out onto the ground when their pod shrivels.  A fascinating process, to be sure. 
More fascinating than harvest was finding this little gal.  Cute, isn't she?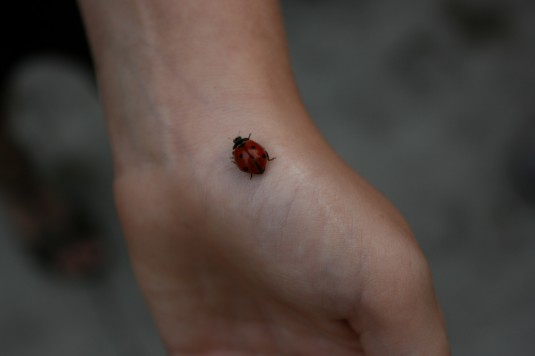 "Can I take her home?"
"No, sweetheart."  I glanced at a group of envious expressions.  "Does anyone know why?"
"Ladybugs are beneficials!"
I nodded, pleased by their quick response.  "That's right!"
This week our task was to harvest and collect the beans and peas so we can plant them in our fall semester crop.  Not only did we grow the bean plant, we will now use our very own seeds to grow the next one! Very cool.  (This thrill cannot be emphasized enough.)  For kids and adults alike!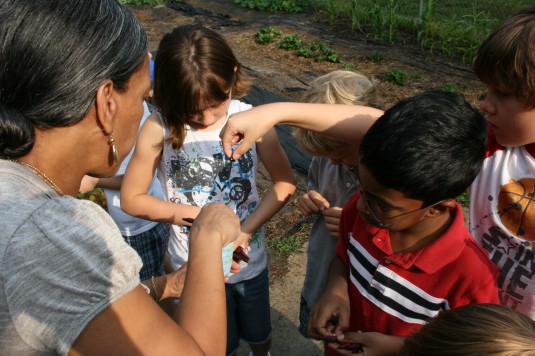 While beans are easy to harvest and save (simply remove them from their pod and allow them to dry) our tomatoes, cucumbers and corn will require a bit more effort. And our carrots, broccoli and onions?  Better have a special seed section assigned, because these plants need time to produce flowers and ultimately seeds—an experiment I'm working on in my home garden.
But until I master the "art" of seed saving, I can only encourage kids to work with the easy veggies—like beans, peas and cucumbers!  Not only did they harvest plenty for practice, we've got ourselves enough for whole meal!  Now if only I had a yummy kid-friendly recipe for cucumbers….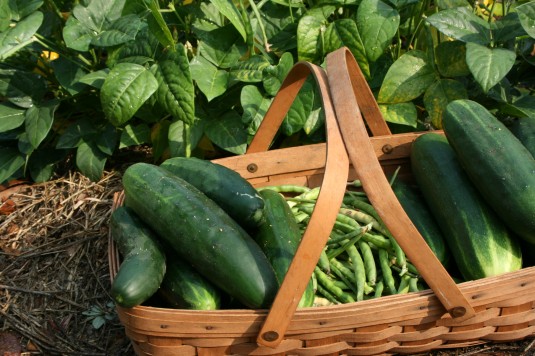 Any suggestions? I'm preparing these for a Monday feast but need some good ideas on how to serve them — kid-friendly, of course!
Wanna save seeds at home?  Start with your very own custom-made seed saving packets!  Check the Kid Buzz section for complete instructions.