22 Apr 2013 2 Comments
After my sad post about giving up on corn, I needed something to boost my spirits, a little pick me up, if you will.  And there's no better way sometimes, than with a spot of comfort food.  Southern Cornbread, anyone?
This is a recipe I devised through trial and error, not to mention the help of my daughter's taste buds.  I'll warn you, she's a sweet one.  Sweet on the outside, sweet on the inside, plain everything in her world is sweet—including her preference in food.  Which leads me to a disclaimer:  this is NOT my mother's recipe.  (We don't want to tarnish her reputation in any way, particularly "guilt by association.")
To be completely forthright, we took her basic recipe and modified from there.  Frankly, I prefer her recipe, only not oven-baked as she directed, but pan-fried, with lots of yummy butter to make it a beautiful golden brown.  My apologies to my healthy friends—this recipe is anything but.
But it's oh-so-delicious.  And simple–the best part of all!
Southern Cornbread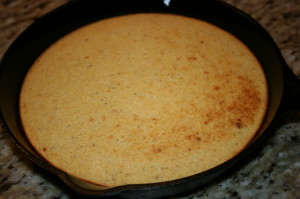 2 cups yellow cornmeal
2 cups buttermilk
3 TBSP melted bacon drippings, extra to grease pan
1 egg
1 tsp baking soda
1/2 tsp salt
1/4 cup vanilla pudding mix (optional – to add moisture)
2 TBSP sugar (optional – for the sweet tooth!) More