15 Jun 2011 No Comments
They sometimes don't mix.  Unless you plan accordingly, vacations can wreak havoc on a garden.  Shoot, even when you do plan accordingly they can shower your garden with weeds and bugs, slugs and grubs.  The mere thought of leaving my garden for a week at a time gives me the heebie-jeebies. But hey, I've got to live, don't I? 
Yes.  More than live for my garden, I've got to traipse across the wilderness, scour new horizons in search of greener grass and bluer skies and drag my kids alongside me.  My heart soars at the sheer whisper of exotic destinations and far off places. 
Until they introduced those intrusive body scanners, anyway.  Ick.  Unfortunately, body scanners and groping TSA agents are not the only things capable of making one mutter, "ick."  No.  Vacations away from your fabulous and fertile garden can make you turn away in horror, too.  Just look at what happened to Julie's gorgeous greens.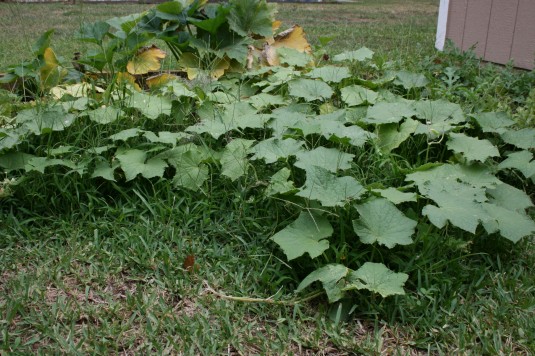 She wasn't gone for long.  It all happened so fast… 
It's enough to make a girl want to up and quit this whole garden experiment, toss the newfound joy aside like an uncomfortable pair of heels.  They're scuffed.  It will take effort to refurbish them to their original shine.  Is it worth it?
Chin up, ladies–of course it's worth it!  You're a gardener now.  You must understand that Mother Nature likes to toy with a gal, test her fortitude and make sure she's worth those glorious tomatoes she's perfected over the centuries. After all, once she's entrusted you with her precious commodities of fruits and vegetables, she'll expect you to perform in turn. 
And perform you will.  As Julie has proved with these lovely near ripe tomatoes.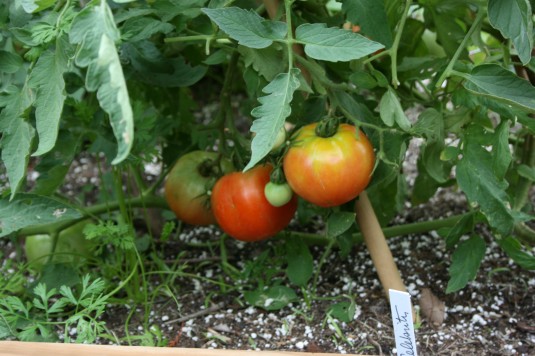 Just look at these budding beauties.  Kinda makes it all worthwhile, doesn't it?
P.S.  Remember:  Mother Nature does this all day long, all by herself.  You're included in the growing process at her whim.  If she wants your garden to grow, it will.  If not, oh well.  One only has to consider my compost pile tomatoes to be sure this woman knows how to garden. (Yep.  This plant is growing completely unaided in my compost pile.)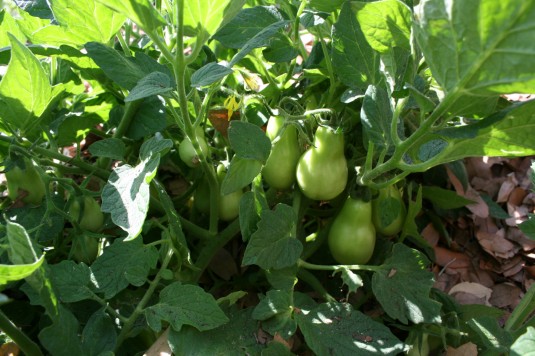 Then look at my corn.  Granted this shot includes only a few stalks flattened by wind–but trust me–there were more.  My husband claims I need to plant more rows, shorter rows, insisting a denser planting formation will protect the interior stalks leaving only the outer corn susceptible to annihilation.  (Apparently men from Ohio know a little something about growing corn.)  Fine. I'll take it under my cap and consider it.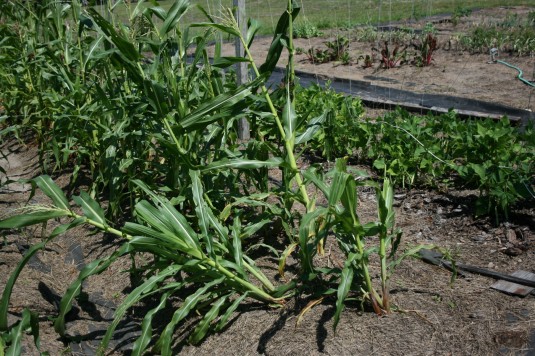 Next season.  For now, I suggest you take this as a warning–in case you had any doubts about the ferocity of Mother Nature's temper.  Not sure what I did to deserve this, but don't think I didn't fight back and right those stalks at once!
I can be impossible, too. 🙂