12 Mar 2012 No Comments
Red paper mulch will increase your tomato yield!  Increase my tomato yield? Now that's what I'm talking about–woohoo!  Let the celebrations begin!
But how is that possible?  According to the Agricultural Research Center and scientists at Clemson University, red plastic paper "reflects onto plants higher amounts of certain growth-enhancing light waves from sunlight."  And is said to have "boosted tomato yields in research plots up to 20 percent, while conserving water and controlling weeds."
Wow.  Now that's some serious cabbage–er, I mean, tomatoes.  You mean I'm going to reap 20% more bounty this season?  All because I laid this red paper around my tomatoes?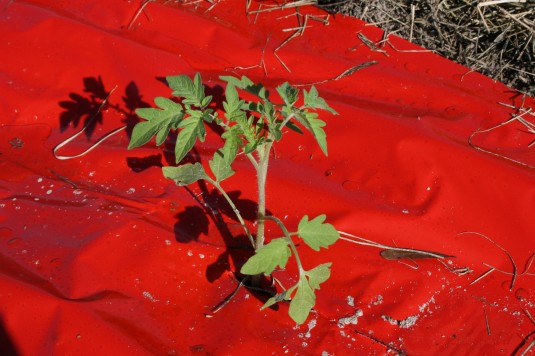 Count me in!  I'm game to try anything.  And is there any better color than "red" for my "red sauce" producing tomatoes?  I think not.  So how do my babies look dressed in red?  All transplanted and settled in, we're off to the races.
To my 100% organic friends, I apologize.  I know using plastic is not good for the environment, but they're promising me 20% higher yield.  That's hard to resist.  And it kills nematodes!  Important for my nematode-infested ground.  Isn't the trade-off worth it? 
Eventually the "green" scientists will develop something red AND biodegradable.  We'll see.  Until then, I'll suffer through plastic and perhaps sneak it into the recycle bin when I'm finished with it.  After I use and re-use it, that is.  Several times.  As many times as I possibly can!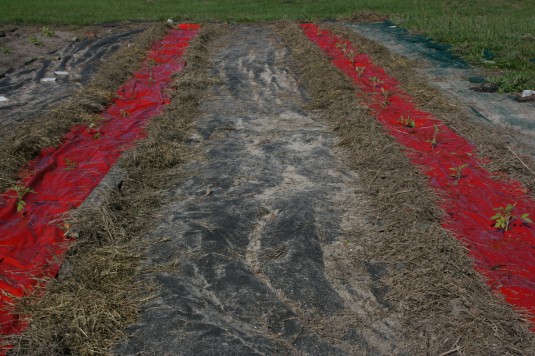 Hm.  Once I get past my anxiety and guilt (hopefully assuaged by a bumper crop of San Marzanos), I'll let you know how it went.  Until then, consider me the "mad" scientist in the garden willing to try most anything–once!  Why not?  I'm adventurous. 🙂
How about you?  Ever tried red paper mulch in your garden?