08 Sep 2014 No Comments
With fall fast approaching and most gardens winding down, what's a gal to do with the extra time on her hands? If you're like me and my daughter, you take out the nail polish and get painting–painting those gorgeous summer flowers on your nails before they disappear!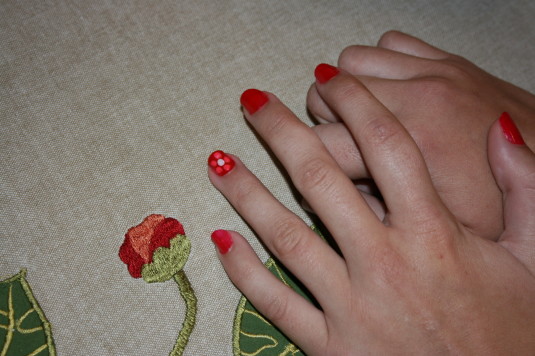 While it's nowhere near as wonderful as gazing upon the real thing, it is a fun way to spend a weekend afternoon with the girl who means the most to you. When my daughter and I heard August 30th was officially Mom and Me Mani Day, well, the decision was made! I mean, not only do I love spending time with my daughter, but I enjoy watching her use two or three colors to do her nails. Now in my day, we used one color, much like I still do for my pedicure. But her? No way. The more the merrier. She paints pictures, designs, initials–whatever strikes her fancy at the moment will end up on her nails. For example, the first letter from every boy's name in the band, One Direction…
Me? I like flowers and vegetables, and considering she led the last mutiny in our vegetable garden, we went with flowers. While hot pink is my all-time favorite color, we went with tomato red and autumn orange, plus a dot of pale pink in the center. As you can see, my daughter has the perfect hands and nails for a beautiful manicure. I do not.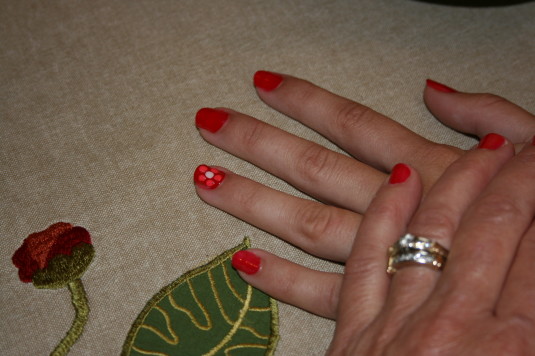 But I'm a gardener first, a beauty second. As a young teenager, my daughter's priorities are reversed–exactly where most girls her age are in life, with one pointed difference: my gal can identify vegetable plants by their mere leaf shape. Can most teens make this claim to fame?
I'd venture to guess, no, giving us mothers one more reason to get out and get gardening–our youth needs us! And even if we don't teach them the basics of organic gardening, we can spend a wonderful afternoon together painting our nails. Since I have no nails to speak of, I have the added pleasure of living vicariously through my daughter's nails. They are quite lovely, as is she.
Julep colors to create this design: January (Red), Brielle (Orange) and Jennifer (Pink).