23 Nov 2015 No Comments
I've been struggling with growing corn. Between the bugs and the food and water, my corn has not been happy with me. But no more. While it might not be the biggest cob of corn, it certainly is the most beautiful.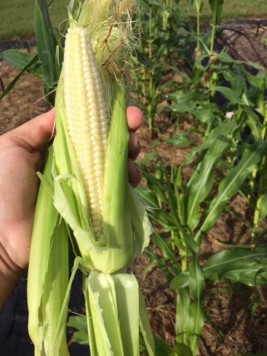 No worms, no black spots–not even missing kernels. Nope, this cob of corn is perfect! Sure, it's somewhat on the small size, but I'm 100% organic and you'll find no super-growth nutrient mixes in my soil which I'm convinced must be part of the issue with regard to size. That, and natural soil composition. I don't know what California is made of, but they've got seriously good dirt. All the produce I've ever seen from California is HUGE. Ginormous. And delicious!
But I live in Florida and must make do with what I have. And right now, I'm feeling pretty good.
How did I do it? Liquid seaweed and fish emulsion fertilizer, plus a healthy blow of Dipel Dust. The worms are the worst offenders, followed by the grasshoppers/leaf hoppers. How about you? Any success stories to share?