10 Jun 2011 3 Comments
Oh the joy!  You have gobs of cobs and tubs of spuds–another banner year in the garden.  Pull out the picnic basket and call on the neighbors, it's time to celebrate!
But wait–
Uh, oh.  It's all coming back to you.  Last year was a banner year, too.  And after you filled your bellies and those of your neighbors, packed your freezer and stacked your cellar, you STILL had food to spare.  Oh, despair!  What shall we do?
Fun and games, sing-song tone aside, food that goes to waste is something of a despair–but one that can be avoided.  But how?  You've given your excess produce to everyone you know.  There's no place else to turn, no hands left open to give.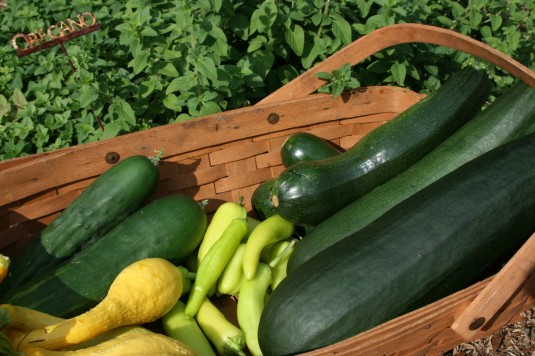 While that may be the case, you do have another place to turn.  With the help of an organization called Ample Harvest.org, you can now locate a fresh food pantry near you and donate your excess harvest to them.  Better yet, don't wait until you have excess–donate some of what you have in your basket today!
With a network of pantries that spans clear across the United States, chances are good you'll find one in your neighborhood.  And if you can't, then by golly you need to start one.  It makes sense to do what we can, lend a helping hand to a neighbor in need.  And we gardeners know that fresh is always better–beats canned every day of the week.
So how about checking in with Ample Harvest and see how you can make a difference?  Talk about reaping what you sow–I have to believe there will be some good karma following you home after your fresh food pantry delivery.