07 May 2013 No Comments
No, I'm not talking fannies. St. Patrick's Day has come and gone so you've missed your opportunity there, but you still have your tomatoes to look forward to pinching. As the weather warms up and the rains fall (the sprinklers shower), they'll need it. And it's simple. While you're strolling through your garden admiring your handiwork (give Mother Nature a little credit, else she dish out a storm of trouble), check your tomatoes for these little suckers. I'm talking about that sprout of a growth emerging between in the "Y" of the branches.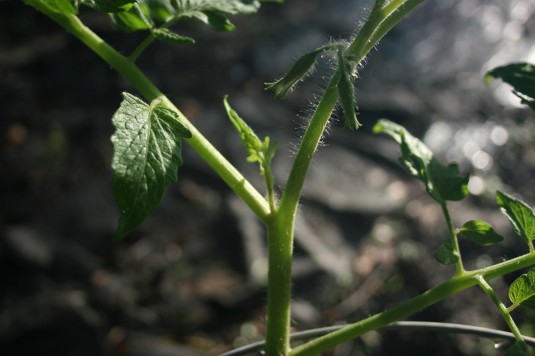 Once you start looking, you'll notice them everywhere. When you see them, pinch them off. Yep, remove those suckers so that your tomato plant will funnel its growing energy into the main stalks of the plant. No sense wasting time growing a bunch of scraggly branches when you want nice full tomatoes that come from a strong plant. A heavy limbed plant that doesn't need any more weight than the weight of those ruby-red gems you plan for your next salad–or sauce.
You'll also want to think about pruning. When your plant reaches a height of say 3 feet, consider pruning further growth by clipping it back. Again, the goal here is to keep it strong and robust for healthy tomato production.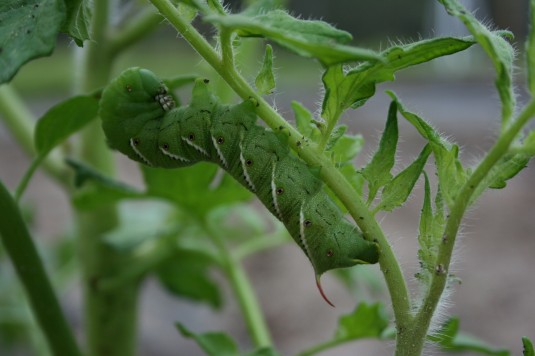 While you're out there, check for signs of this beast. The last thing you want is to invest your time and energy into growing beautiful tomatoes only to have this guy devour your plant in the space of an afternoon. It's the tomato hornworm and trust me, he will, given the chance. But he camouflages well, so be diligent and check under your leaves, around your stalk. And if you see large droppings of poop on your leaves, don't give up. It means Mr. Hornworm has paid you a visit and is likely still munching and crunching.
Then sit back, fix that glass of Rosemary Lemonade and enjoy your garden. Because really, other than eating, this is the joy of life.