06 Feb 2013 1 Comment
I love Martha Stewart.  There.  I said it.  She cooks, she crafts, she gardens, she adores her dogs–what's not to love?  Her desserts are to die for, her garden is poetry in nature…
Okay.  That's a lie.  It's a perfection of nature. I've browsed the magazines.  I've seen the pictures.  It's intimidating.  Really.  Which is why personally, I've given up perfection in my garden.  Weeds need to live, too.  That, and my kids have revolted.
Gloved hands to my hips, I stared at them.  "It's once a week.  What's the problem?"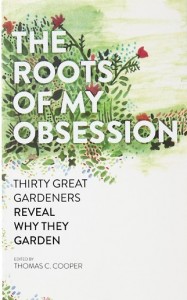 Both returned a frown.  "It would be more fun if we had a friend."
Huh. You see, for them, gardening is a group activity.  At school, when surrounded by their classmates, all is well.  They weed, they chat about movies, discuss video games (depending on which kid we're talking about here), they spend time in the glory of nature…  It's a sight to behold.
As an avid gardener myself, I understand this completely, though I tend to enjoy my solo moments in the garden, too.  Nice break from the family, if you get my drift.

But more than a break, gardening can be an obsession, too.  And featured in this month's Martha Stewart Living, you'll find a host of wonderful garden books, like Thomas C. Cooper's The Roots of My Obsession.  A collection of 30 essays from notable gardeners such as Rosalind Creasy, author of The Edible Garden and Stephen Orr, gardening editor for Martha Stewart Living, this book is packed with the love of gardening, the joy, as well as the adventure.  (I do love a good adventure, don't you?)  It's like receiving letters from your garden friends, notes sure to bring a smile to your face.  Most likely a nod from your head, too! More