05 Nov 2012 No Comments
With the holiday season almost upon us, I thought I'd share some adorable Christmas decorations that are either all-natural in their construction and materials are just too darn cute to pass up.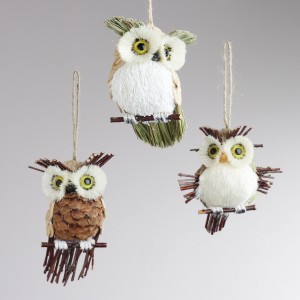 At the top of this list are these adorable owl ornaments.  Made from real pinecones, twigs, and natural fibers, these three assorted Natural Fiber Owl Ornaments add an elegant woodland touch to your tree with their expressions full of wide-eyed wisdom.  You can buy them in a set of three for around $20 from the World Market. 
But don't limit yourself to what you can purchase.  Why not go outside, grab some flowers and twigs, cinnamon from the cabinet or felt from the craft bin and make your own?  For a host of ideas and how-to, check out In The Garden online for creative ways to bring the outdoors into the holidays. More