20 May 2014 No Comments
My carrots are on their way out–actually have been for quite some time. Planted in the fall, these beauties have been hanging out for a while "in ground" until I summoned a need for them. Mind you, it's supposed to be a little over 2 months to harvest, but as with all things in the garden, there is leeway. Lots.
If your carrots aren't getting enough water, they might take an extra month. If they aren't getting enough food, same idea. My carrots are very tolerant when it comes to these things because they have to be; I'm their gardener! But it's not that big of a deal, really. I mean, over Easter we harvested a bunch of carrots and made carrot cake. A couple of weeks later we harvested a bunch for carrot soup, and they were all good. Some were a bit small due to overcrowding (not enough "hair cutting" on our part), but once we cut the greens off and cleaned the skins, we plopped them into a food processor and came up golden.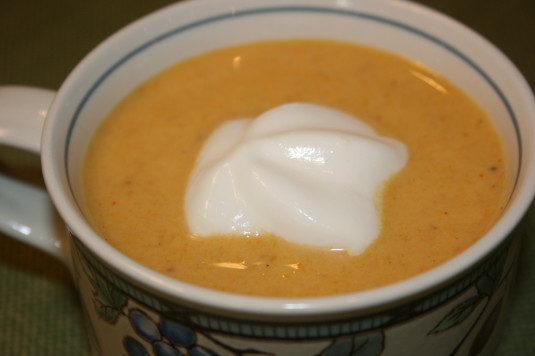 So, since we like to experiment with our garden harvest, we tried carrot soup. Sampled some during a Mother's Day luncheon and it was so delicious, I had to try my hand at making a bowl of my own. The results were mixed within the family–I loved it, my husband tolerated it, my son thought it tasted like curry and my daughter wrinkled her nose. Carrots aren't her fave. More