29 Mar 2013 No Comments
In my kids' garden world, there's nothing better than harvest time–unless, of course, we're tilling.  My son loves tilling and tearing through the dirt.  (Doesn't every boy? :)) And we've waited so long for the sweet onions to mature, it's time we get digging. 
Planted back in the fall, these sweet delicacies take time to fill out and ripen to perfection, about six months or so.  You'll know when they're ready when their tops brown over.  As you can see, we didn't wait that long.  Besides, we could clearly see the rounded tops poking up through the soil surface, these onions were calling our name…
"Hey, you–come and get me!"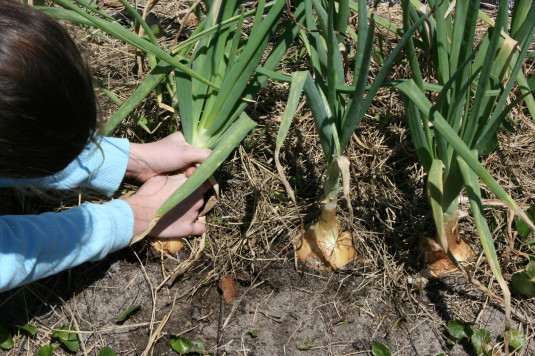 Didn't take much to distract my daughter from her chore of weeding carrots.  With the recent cold snap, she's been craving French onion soup, so we pulled a little early. Simply wedge the onion back and forth from its position and gently pull. Voila!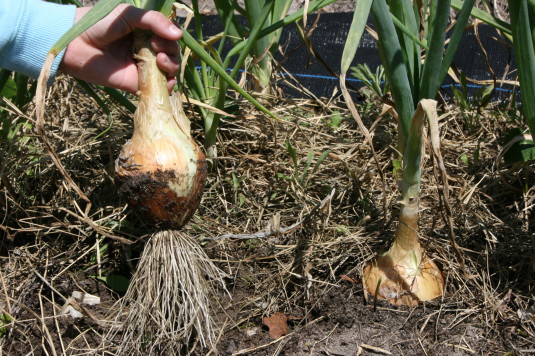 Your very own fresh sweet onion!  Hmmm…can you smell it?  VERY fragrant and oh-so-sweet when freshly harvested.  While not quite round in shape, this one is plenty fine to eat.  Again, we can be impatient gardeners and this is the fruit of our labor. My son prefers them raw, but my daughter likes them baked, broiled and caramelized. 
If you've never tried growing onions yourself, give them a whirl, if only for the fact that they taste like "butta" when eaten FRESH from the ground.  Try the Baked Sweet Onion recipe or perhaps the Onions Au Gratin.  Both are divine…