14 Oct 2015 No Comments
While I adore all things pumpkin this time of year, I love growing garlic and October is the month to begin. You can purchase garlic online via a variety of seed growers, though I get mine from my local seed and feed. Gotta support my community, right? Better yet, I can choose the bulbs I think look best and not lacking in any way. One of the issues with garlic is fungal disease–another reason I like to eyeball my bulbs before purchase.
One thing to keep in mind when growing garlic is that these babies take time, and lots of it. Like sweet onions, I plant garlic in the fall and harvest the following summer. By my count, that's about six months. UGH. Tough when you're the gardener excited about growing and harvesting your garlic.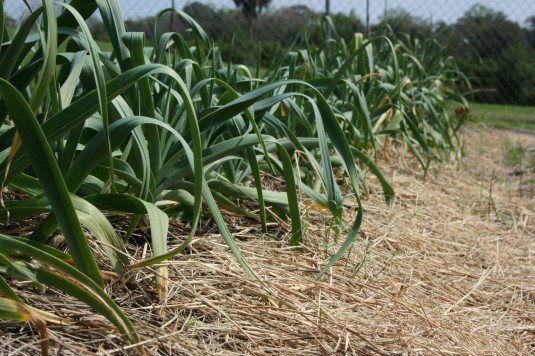 But once you make the decision and commit, you'll be glad you did. Homegrown garlic is worth the wait. Here in Florida, I plant my bulbs in October, after I pre-soak them overnight in a baking soda-vinegar solution to prevent fungal diseases, about 1 TBSP of each per gallon of water. Some suggest the addition of liquid seaweed to the solution to encourage root growth, though I usually wait and use the seaweed to fertilize them once in the ground.
As with most vegetables in the garden, garlic prefers an organic-rich well-drained soil. If you live where it freezes, you'll plant your bulbs in fall and mulch well, protecting the garlic and encouraging worms to hibernate with your bulbs. More