05 Oct 2011 2 Comments
Wow–this woman has been busy!  Since our last visit, she's cleared the front porch of boxwood and weeds and formed a lovely decorative wall to showcase her soon-to-be rosemary hedge.  While she already has some rosemary in place, she plans to add a few more plants to fill in the area for a complete lush "hedge" look.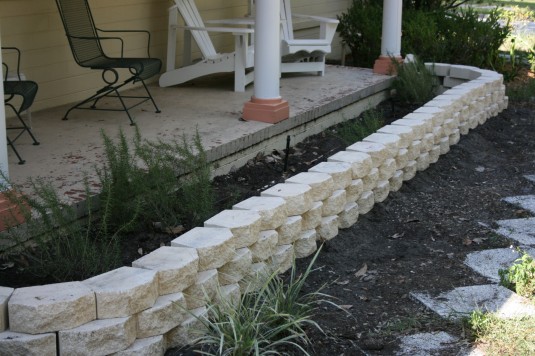 In front of this section she has a nice line of available dirt she intends to use for seasonal vegetables, such as cabbage and carrots–GREAT garden companions for rosemary because the rosemary is said to repel cabbage moths and carrot flies.  Are we employing organic methods, or what?
But before she took this step, Mandy did something very important.  Unlike my garden that is out in an open grass field behind my home, clear of any trees or shade, hers is a mix of shade and sun so she felt it important to perform a sun study.
A what?
My question exactly.  🙂 Basically a "sun study" tracks the sun's path over her yard.  Because Mandy lives in a neighborhood with tons of trees, she needed to be sure which locations were suitable for herb and vegetable plants.  Smart.  Very smart.  And simple, too.   First she secured an 8 1/2 X 11 copy of her homeowner's property survey–an outline of her property boundaries–and then made 10 duplicate copies (one for each hour of the day she intended to record the sun's path). 
Next, she chose a day where she had time to devote to said sun study and began at 8:00am by walking out into her yard, observing which parts were currently exposed to the sun and then highlighted them with a yellow marker on her survey sheet.  She then repeated this action on the hour, every hour until 6:00pm giving her a consecutive record of the sun's trek over her property.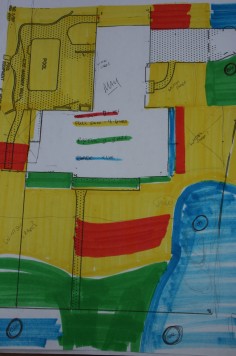 With all 10 copies in hand, she then transferred the information to the original copy, color-coding each area according to 4 different categories:  shade =blue, part-sun=green, full-sun=yellow, and hot spots=red. Full-sun in Florida counts as 4-6 hours of sun.  Part-shade was marked as 3-4 hours while shade was no sun at all.  Hot spots are as you'd imagine–they receive sun all day long without reprieve–an important thing to know in Florida. 
Pretty cool, huh?  This was a totally new concept to me and I just love it.  How organized and wonderful and the absolute perfect way to avoid disappointment when it comes to creating an edible landscape!  As you can see, the area out back by her pool counts as full sun and will provide an excellent location for growing cucumbers, zucchini and black-eyed peas. 
As noted, this diagram was drawn during the month of May.  Being that it's already October, she's due for another to account for the change in equinox.