As the air grows cooler and drier, I find myself slathering on more moisturizer.  Am I dehydrated?  Maybe.  Or maybe it's just too much time outside in the garden without the humidity (my hair thanks you!), but my skin doesn't.  It needs a little TLC.  Luckily, I've found some fabulous moisturizers to do the trick!  I do love technology that can blend nature with need, don't you?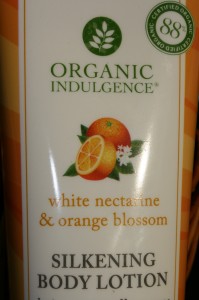 One of my new favorites is from Organic Indulgence.  Believe it or not, I discovered this gem during a school fundraiser for my kids.  Yep, leafing through the magazine in search of something to buy in a show my support (go Manta Rays!), I stumbled upon this heavenly lotion.  When I saw the words White Nectarine and Orange Blossom Silkening Body Lotion, I was like a bee on honey—I need me some of that!  And no surprise, this stuff is wonderful.  Delightfully aromatic and luxuriously lubricating, my skin whimpers in ecstasy each and every time I smooth it on.  It definitely lives up to its name. Check out Deep Steep for more indulgent buttery creams.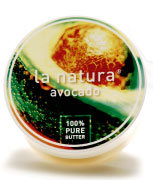 Next on my must-haves is anything avocado.  This fruit is amazing.  Not only healthy to eat, but it makes a great hair conditioner, too.  And for the skin?  You know it's rich and luxuriant–absolutely divine.  Especially when mixed with shea butter as is this Vegan Body Butter from LaNatura.  Hmmm….  Wanna touch my skin?  I warn you:  It's to die for.
If you're strictly in the market for hand creams, may I suggest a gardener's best friend?  Intensive Therapy Hand Cream available in pure lavender or herbal mint.  These babies are sheer heaven.  A definite indulgence for gardeners!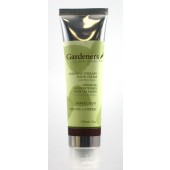 For seriously chapped hands, gardeners may want to opt for Miracle Salve from Burt's Bees.  A super-enriched emollient formula bursting with Pumpkin Seed Oil, Olive Oil, Wheat Germ, Bee Pollen and Beeswax, it will have you believing in the power of Mother Nature in no time!
But for hands, I must confess one of my all-time favorites is Hand Relief by Aveda.  I love the way it smells, I love the way it feels…especially after a hand wash with their Rosemary Mint cleanser.  Talk about a party for the senses!  Mine go ga-ga every time over this rosemary/peppermint concoction.
Yet no matter which brand or fragrance you choose, keep it all natural!  Organic, if possible.