Ready to get gardening but haven't packed your bag, yet?  No worries!  You've come to the right place.  When considering which type of garden bag to purchase, you first need to consider what it is you'll be using it for and why.  For most of us, our gardens are located outdoors in the backyard.  But these days, with the edible landscape craze, we could be roaming all around the house, near the street, out back, out front—you name it!  And we'll need our tools with us.  But exactly what tools do we need?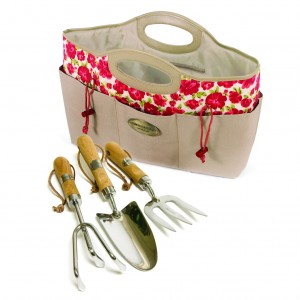 For starters, you'll need a hand shovel and trowel.  Of course you'll need your seed packets with you and any special plant food you may use to plant with them.  A pair of pruning shears is always a handy addition, as is a water bottle.  I like to have paper and pen to make notes.  I'm a list kinda gal (helps keep my thoughts moving forward).  If you're not already wearing your gloves, you'll need them easily accessible.  This bag is a design by Laura Ashley and currently available at Overstock.com ~ though if you search the internet you're bound to find others.  Be sure to check out Angela's Garden and the The New York Botanical Garden shop.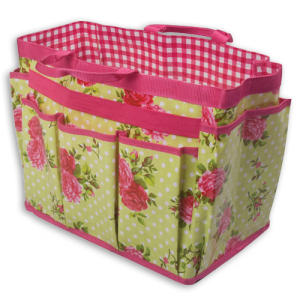 Your bag should be roomy enough to contain your bags of fertilizer (worm poop, Epsom salts, fish emulsion, etc.) as well as a spray bottle  filled with your custom-designed concoction of organic bug repellent.  Think:  old stale coffee or compost tea.  Other things to consider are knee pad, face mask, protective eyewear (sunglasses) and the like.  This bag is a lovely choice for those interested in making a more feminine statement.  Best of all you can wipe it clean and keep it fresh and pretty!  It's sold through Dapperjacs.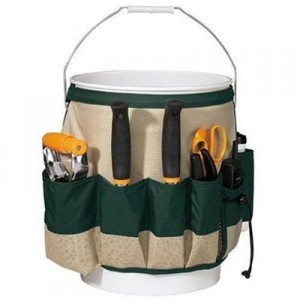 As your plants grow, you'll want to carry garden tape/twine for supporting tomatoes, peppers and harvest bags to collect your bounty.  Bucket style bags with pockets lining the outside are a practical choice.  Very sturdy, they can definitely handle the rough and tumble lifestyle of the outdoor enthusiast.  They just aren't very pretty.  You can find this one and others like it on Amazon.
Unlike this bag from Vera Bradley.  Now I'm not saying that's what it's made for, but…  Why not?  If your garden is limited to your patio and you like pretty things?  I'm good with it!  Besides, anything that will keep you in the garden and caring for your plants is what matters.  After all, that is the goal, right?  Looks nice and roomy in there to me!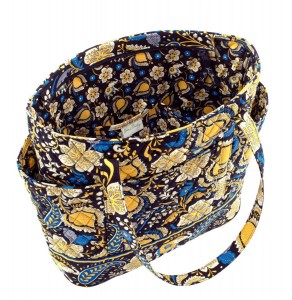 Sure is.  Dark enough to hide dirt, too.  And speaking of kids, how about considering a garden bag for them?  Nothing like their very own garden tote to keep them interested in the garden and helping care for the plants.  I mean, kids LOVE the garden and can actually be quite helpful.  They plant the seeds, weed and feed (and they love the rhymes!).  Why not get them their very own garden bag?
These days the options are too cute to pass up.  At least for me.  And you can usually find adorable gloves to match.  Besides those listed here in my Prize Picks section, why not take a look at some of these?
They really can make all the difference between "happy gardeners" and "grumpy gardeners."  You can even get them with their names on them!  Red Envelope has a nice gender neutral bag to personalize.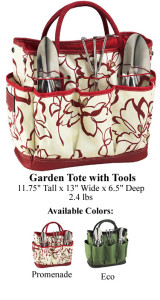 However, Garden-Fountains has some small bags suitable for personalization as well—you'll just have to find someone in your area who can do it. 🙂 So whatever your budget, you're sure to find a garden bag fit for all your garden accessories.  Now what are you waiting for?  Get going and get ordering!  You've got a garden to grow…
For those crafty gardeners, how about using this step-by-step guide to making your own. Cute. Very cute.
Happy Spring!