With harvest time upon us (except for we Floridians who are beginning our fall growing season!), a great way to continue the joy of gardening is to bring it indoors.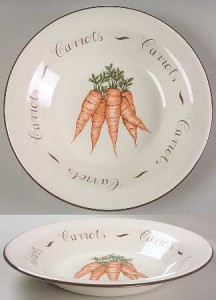 Not only can you serve up those fresh garden veggies on a wide array of dazzling dinnerware, you can use these plates as decor–they're that beautiful.
I have a collection of Williams-Sonoma pasta bowls painted with eggplants and tomatoes, olives and zucchini that I simply adore.  I received them as a gift years ago, but noticed that this company continues the tradition, updating its designs from season to season.  Similar to mine are these by Franciscan China, offered in cabbage, carrot, eggplant and radishes.  Elegant and refined, they'll inspire a love for vegetables among anyone who eats from them.
Along the same lines are these pasta bowls from Certified International.  Rich hues and vibrant patterns make them a real standout, but this company offers a gorgeous array of flower plates, too.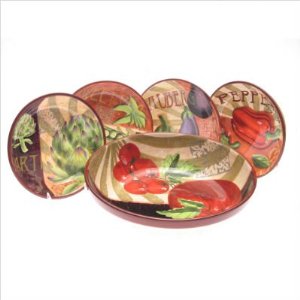 Check out these poppy flowers at I Love Dinnerware or these festive ones from 100 Cookwares.
Not everyone grows vegetables (say it isn't so, Sammy!).  Some enjoy cultivating the blooming variety of plants and with winter fast approaching, will miss these lovelies in their garden.  But not to worry!  Crate and Barrel has a delightful selection of plates featuring the peony, mum and passion flowers.   For you Amazon aficionados, you can find anything your heart desires when it comes to garden-themed dinnerware, like these from Pinzon.  Very pretty indeed.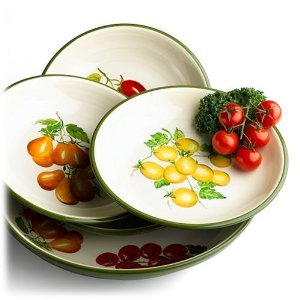 So whatever form of gardening strikes your fancy, take heart in knowing there's something for everyone when it comes to striking the mood indoors–once Jack Frost comes to town, that is.  Until then, we know where to find you!