With the holiday season almost upon us, I thought I'd share some adorable Christmas decorations that are either all-natural in their construction and materials are just too darn cute to pass up. :)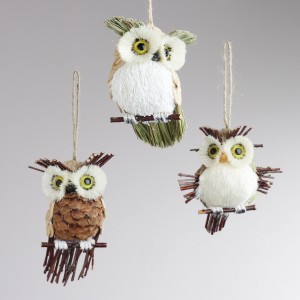 At the top of this list are these adorable owl ornaments.  Made from real pinecones, twigs, and natural fibers, these three assorted Natural Fiber Owl Ornaments add an elegant woodland touch to your tree with their expressions full of wide-eyed wisdom. 
You can buy them in a set of three for around $20 from the World Market.  Another source for all-natural ornaments is One World Projects and their vast selection of interesting and unique gourd ornaments and items for your mantle, etc.  But you can also find these Peace Dove ornaments carved from coal and white tagua nut.  In purchasing these products, you'll be helping the people of Morcá, Columbia.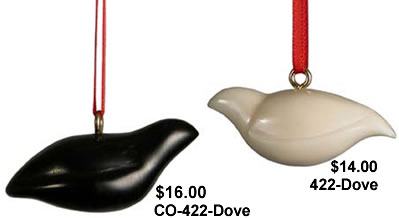 Make your own ornaments include these cinnamon bundles.  With its distinctly warm, aromatic smell, cinnamon spice can instantly create a familiar festive scent in any room. Try finding long, golden-red cinnamon sticks to make these striking natural decorations for your Christmas tree.  Full instructions can be found here, courtesy HGTV.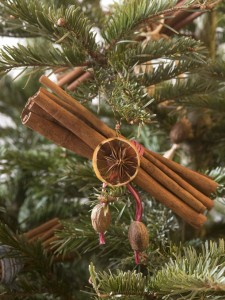 For more on creating your own garden-inspired Christmas decorations, check out In The Garden for some creative ideas. More than pinecones and seeds, think hydrangea and flowers for your wreaths and ornaments this year!
One of my new favorites are these adorable felt Christmas trees.  While felt might not count as all-natural, these are simply too cute.  Available in 8″ or 12″ the trees are made from 100% recycled felt. 
Place them straight up or give them a "jaunty" tilt but either way, the kids are sure to love them!  Available from Gardener's Supply, they retail from $20 – $40.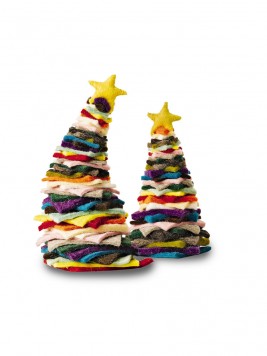 There's always fun to be found in making our pine cone bird seed feeder, the traditional popcorn garland, but have you ever wondered where and why these traditions came to be?   It's said the original ornaments were apples, dating back to the 1800s.  Eventually the idea expanded to include popcorn garland and the like, but in many countries there are still special ornamental traditions today. 
According to Jasmine Gore, here are a few of the ornament traditions:
In Germany there is the pickle ornament, placed on the tree first by the parents. The story goes that the child who finds the pickle first (normally the most observant one) would receive an extra gift from St. Nicholas.  In Lithuania, Father Christmas spreads grain on the floor and children must perform a special song or dance on this grain so they may receive their presents.  And in Argentina instead of placing gifts under a tree presents are put into shoes.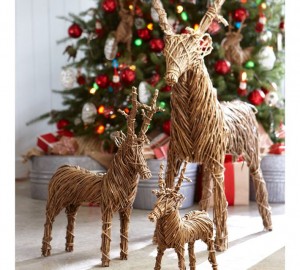 Interesting.  But Christmas décor isn't limited to the Christmas tree.  Why not take it outside with these rattan reindeer from Pottery Barn?  Made from sustainable rattan, these reindeer are hand-woven in a precise design that's true to their natural silhouette.  Sizes include 18″ L  X 26″ H and 22″ L X 35″ H and range in price from $49 – $79.  Perfect for the patio.  And we gardeners do love to spend time on our patios!

However you decide to decorate and celebrate the holiday season, I hope you've found inspiration in some of these images and articles.