For bugs, slugs and thugs that live to devour your garden, think stink.  Much like humans, critters are adverse to certain scents, specifically garlic, hot pepper, dead fish, tobacco, coffee—the list goes on.  If you incorporate these odors into your pest control regime, you will find the insects will steer clear of your garden.  It's what I like to call "scentsible" pest control.  Non-toxic and fully operational!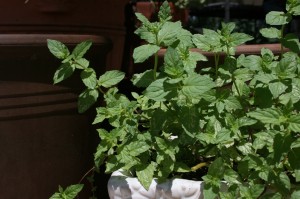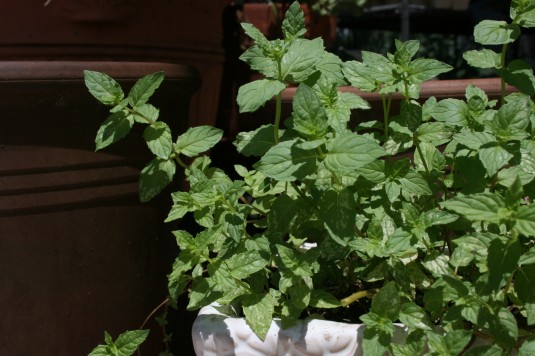 Other ways to use this aromatherapy style pest control is with companion planting.  For instance, garlic repels the aphids that would destroy your roses.  It also helps prevent mildew and black spots! Rosemary repels carrot flies and cabbage moths.  But did you know mint (peppermint, spearmint) will repel ants?  Who knew?
Fish emulsion fertilizer is the perfect solution, because not only is it a great way to feed your plants, the low tide stench will ward off most unwelcome guests—pets and kids included!  But consider this forewarning: DON'T apply before you expect the sweet children to weed.  You'll only set yourself up for most assured rebellion.
But if you want to kill the bugs, you'll need to get messy—or shall I say, sticky.  Your best option for stopping bugs in their tracks is to use mineral and/or vegetable oil. Basically, this stuff "clings" to the bug and suffocates them.  Sounds awful I know, but it's better than you plucking and pinching the beasts, isn't it?
Thought so.  And it's just as organic.  Another alternative for excellent clinging benefits is vegetable based liquid soap.  Just remember NOT to apply on hot sunny days as they can harm your plants and DO reapply after rain.
There are tons of ways to concoct these potions and can be found across the internet but you can mix your own in a few easy steps.  For a hot garlic spray, combine a few garlic bulbs, several hot peppers (powdered will do), a spoonful of vegetable oil and a few spritzs of dish soap in a ½ gallon of water. Mix well (blender works great!), then pour what you need into a spray bottle.  Be sure to save the rest for later by sealing it well and storing in a cool dark place marked: CAUTION – bug zapping spray.
Got compost?  How about making a lovely compost tea?  Mix 4 parts warm water with 1 part compost and allow the solution to sit for a few days.  Then all you do is pour the mixture into a spray bottle and you're on your way to stinkville!  Manure substitutes well.
Of course it does.  For a quick and easy sprtiz-a-smell, use your old coffee.  Yep, dump the unused coffee into a spray bottle and off you go!  White flies really detest coffee.  Scatters em' like sand flinging from a wet dog's beach bod. (Have you met my Yellow Lab?  He's real cute—until he shakes, that is. :))
So there you have it—the beginnings for how to turn your bugs into sweet nothings—the organic way!